Why I started Rest Well Pet Memorials
I'm Carla, the owner and doer-of-all-things at Rest Well Pet Memorials and its parent company, Dermestidarium, LLC. I started Rest Well to give families a judgement-free and compassionate space to explore new ways to memorialize their pets after they pass. Our relationships to our pets are unique, and so is the way we grieve their loss.
Often we're told that cremation or burial are the only ways we can honor our pet's body when they pass, and I welcome you to think beyond that.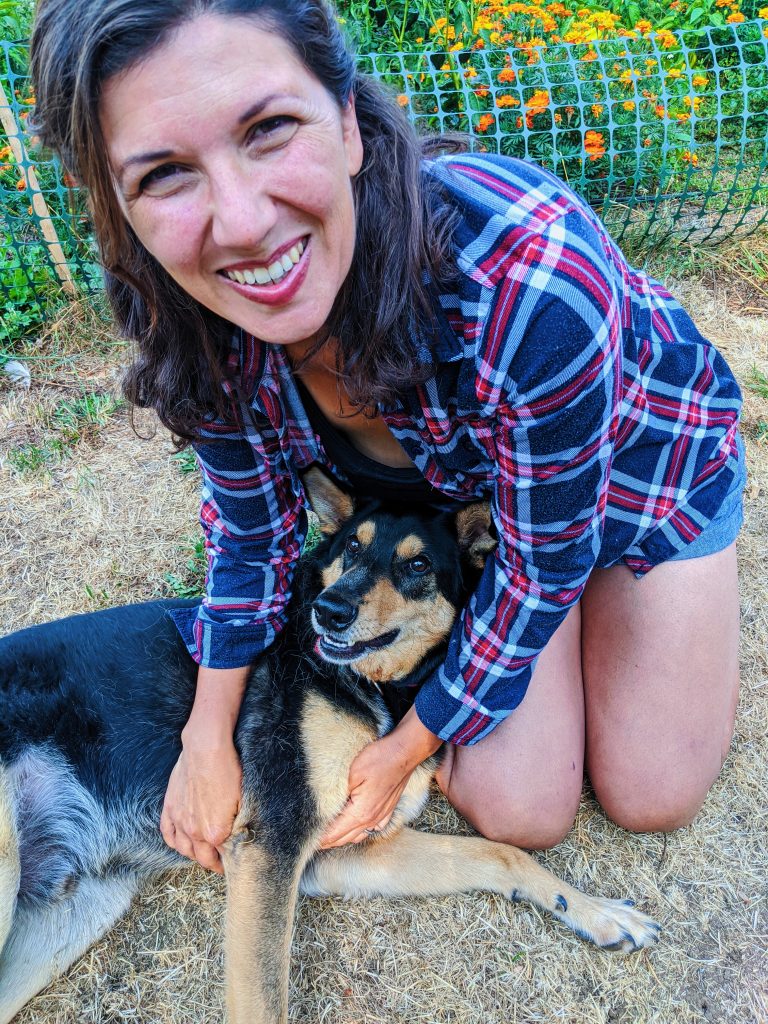 Me and one of our rescue dogs, Dash.
I've helped countless families through this difficult time over the years, working in both traditional flame based and water-based cremation, as well as offering phone support to people arranging end of life care for their companions. Working in pet aftercare was my primary job while Dermestidarium was just getting going as my "side hustle."
The first time anyone contacted me to clean their pet cat's skeleton, I'll admit it made me nervous. No one had asked that of me before. The owner told me how important it was to them, and how many times they'd been turned away and treated unkindly by others they'd contacted. I agreed to help – after all, I was comfortable working with the deceased and helping families through loss. If I could provide a service that would help someone honor their pet's life, I wouldn't say no.
That was many years ago, and since then I've worked with pets of all kinds, from dogs and cats to birds and lizards. As word gets out about what I do, I'm realizing that the desire to save a pet's skull or hide is much more common than I originally thought. I felt that families deserved a dedicated branch of Dermestidarium just for their pets, so they never have to start their inquiry with "I hope this isn't too weird…" I assure you, nothing you can ask here is too weird.
A Little About Me (and my pets)
I knew I wanted to be surrounded by animals from a really young age, and I'm pretty much living the dream. I work full-time at Rest Well Pet Memorials and Dermestidarium, LLC, located on our little piece of farm heaven in Dallas, Oregon. My wife and I share our house with our rescued pets, two dogs (Dash and Lark) and three cats (Helix, Stella and Holly). We laughingly refer to our house as the "Island of Misfit Pets," because they all have a backstory and baggage.
Dash started his days as a feral puppy, was rescued and placed in a home, and was returned to the rescue less than a year later underweight, dirty, and with fresh wounds. We'll never know what happened during that time, but he ended up with severe anxiety, fear and aggression toward people. Honestly, we didn't know quite what we were getting into with him, but despite his mistrust of people he chose to come home with us. We've worked diligently on his behavior issues and, while he still doesn't want to be around anyone but us, he has improved immeasurably. We've learned so much from him and have a special place in our hearts for dogs with behavior issues caused by abuse.
Two of our pets – Lark and Stella, were "adopted" through no fault of our own after they were abandoned on our property. Stella was found as a four week old kitten near our trash can, and Lark was inexplicably found inside one of our cars on a hot July morning. Helix is missing most of his tail and is the only cat we intentionally adopted, and Holly is missing about half of hers. She was given to us through a barn cat program as an "aggressive" feral young cat, but hours after she was delivered to our barn she moved into our home to stay.
We also raise ducks and geese on our farm, both for eggs and meat, and I'm a fairly new but enthusiastic hunter and angler. If you think this is incompatible with being an animal lover, I hope you'll take a minute to watch my TEDx talk, where I explain my transition from being a dedicated animal rights activist and vegan to the person I am today.
A Dedication
Rest Well Pet Memorials is dedicated to the spirit of my soul cat, Zilah, who passed away in November 2018. Her body was laid to rest on our farm by our old defunct well house, and we planted a beautiful memorial garden there in her honor. This was the inspiration for the name "Rest Well."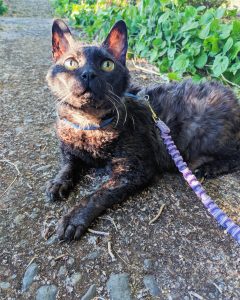 carlabrauer
2020-09-11T18:28:24+00:00
Preserve a skull, special bone or complete skeleton.